IT Enabled Services
We provide services that are based upon proven accomplishments and people experienced in developing and supporting information systems on a wide range of platforms.
Project management
Architecture
Development
Testing and Validation
Training
As a technology-driven, knowledge-centered and delivery focused company we are committed to provide superior solutions tailored for using leading-edge technologies. Our extensive people experience and capabilities across wide range of technologies helps us to weave the right mix of technology for client's business challenges. As we constantly strive to build competency in the emerging technologies, we hone our people skills and capabilities for delivering excellence in our technology practice.
Our team of industry domain experts and software developers has the know-how to offer our customers business applications that are tailor made for their businesses. We also help our customers design, develop and support IT infrastructures that are capable of driving new e-business opportunities, maximize the return from their IT investment and meet their business requirements.
We follow best possible Project Management, sophisticated application development methodologies. This includes
Customer Requirement Analysis and Consulting
Project Estimation and Solution Documentation
Process and Development Methodologies
Upcoming Challenges & Requirements
Project Tracking - Schedule Status and Budget Status
Post Launch Support and Maintenance
VGSL in addition to providing the development and engineering support, also offers a unique range of development services for software product development. VGSL'development services include:
Documentation and UI Engineering
Release Management
Porting and Migration
Technical Support Professional Services
These development services by themselves could be a development center for a customer such as a documentation center or a technical support center. These dedicated centers will work closely with the client engineering organizations closely as an extended arm of the customer's parent organization.
VGSL offers deep expertise across some of these development practices in terms of domain and technology depth.
INFRASTRUCTURE SERVICES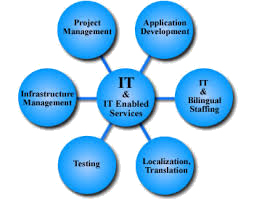 In today's market, organizations are coming under increasing pressure to align IT investment with business direction, reduce IT costs or implement an IT infrastructure that is scalable.
A highly reliable, scalable, available and security-rich IT infrastructure has never been more critical to success of small and mid-sized companies. Our comprehensive set of services can help you optimize your IT investments, improve performance, achieve availability objectives and avoid expensive problems. We have the expertise, proven methodologies and tools to help you manage your IT investments, improve operations and performance. We have experience in following services related to IT infrastructure:
Provide precisely the level of support your IT staff needs to keep things running smoothly.
Will be able to provide valuable sizing models for the environment that you would like to build.
Help in identifying and protecting data migration problems that can create expensive downtime and information loss.
Help in moving of IT environments a snap with proven processes from our experienced team.
Help in keeping track of utilization of systems and forecasting of new capital for the enterprise with specific tools and processes
PRODUCT MAINTENANCE
As a customer-centric and relationship based company, we continue to provide extended maintenance & support while our customer's products reach the users and continue to get stabilized in the market.
We create dedicated team and an exclusive team based on type of product support proposed by our customers.
Our maintenance and support service extend to cover:
User identified Bug fixing
Minor changes and feature updations
User level installation support
Product usage troubleshooting
Product documentation and support during migration to new releases